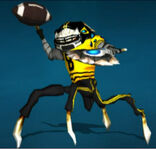 This Nanovor is an "amped" up version of War Thunderer, and it was released just before the start of the NFL season. Gridiron Amp is a Magna nanovor. It takes up 3/10 spaces in the online game. Its attack (excluding its critical hit) is at -65Health (at lvl.3(max),-50? Health (at lvl. 2), -40? Health (at lvl. 1 (1st level). Its Max Armor is +13. Its speed is +32 at max level. Its health is 129 at max level.
Ad blocker interference detected!
Wikia is a free-to-use site that makes money from advertising. We have a modified experience for viewers using ad blockers

Wikia is not accessible if you've made further modifications. Remove the custom ad blocker rule(s) and the page will load as expected.